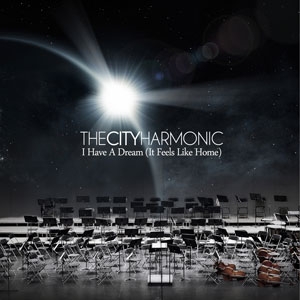 "Fabulous," "infectious," "exciting," "spectacular," "worshipful," "captivating," "creative," "brilliant" – all of these adjectives and more are being used by the critics as they applaud The City Harmonic for its first full-length album, I Have A Dream (It Feels Like Home), which releases today on Kingsway with EMI CMG Distribution in the USA.
Already hitting No. 1 on the iTunes® Canada Inspirational Chart, the growing success has energized the band's engaging live performances throughout North America. Recently finishing its headline tour with Aaron Gillespie, the band continues across North America this fall and will join newsboys for the "God's Not Dead World Tour" that launches in January and travels coast-to-coast through April 2012. Tour dates to be announced soon.
For a limited time in conjunction with the release of I Have A Dream (It Feels Like Home), The City Harmonic is offering the title track and current radio single for free through its Facebook page. The song was actually written even before the songs on the "Introducing" EP (Nov. 2010), and has always been the lynchpin on which the full-length record would hinge.
"The dream, like Martin Luther King's, is that there is another way," explains The City Harmonic front man Elias Dummer, "that it can be what we say it is, the eventual truth that we will awaken, just as Dorothy in the Wizard of Oz awakened from her dream, to find ourselves home at last."
The City Harmonic, consisting of Elias Dummer, bassist Eric Fusilier, guitarist Aaron Powell and drummer Josh Vanderlaan, wrote and recorded all of the songs for I Have A Dream (It Feels Like Home), which was co-produced by the band and Jared Fox. From the "now but not yet" tension of earthly Christian living heard in much of the album, including the title track and "Mountaintop," to having hope in the midst of struggle in "Fell Apart" and "Be Still O My Soul," to dealing with apathy in "Yours" and "Wake Me Up" and living missionally in "Spark" and "Benediction," the songs take the listener on a poetic journey.
Here is how the critics are responding to I Have A Dream (It Feels Like Home):
"Following up their acclaimed Introducing EP, they prove here that they are no one-hit wonder. Artistic songs … will surely gain them even more accolades … Strong vocals and lilting instrumentation round out a fabulous first full-length album." –CCM Magazine
"Musically captivating, the project builds from song to song, carrying the listener on a journey… Track by track, there are layers and mysteries and scriptural connections to explore… one of the best albums of 2011." –Watchgmctv.com
"No worship band in recent history has created the kind of reaction The City Harmonic has with their EP, Introducing The City Harmonic… their album has remained in the top 15 of all of Christian music … I Have A Dream (It Feels Like Home) will continue the musical journey, with lyrics that point to the wonders of our God combined with sweeping melodies and infectious choruses … It has been this kind of embrace that has resulted in many naming The City Harmonic as the 'New Artist of the Year.'" –Amazon.com
"Anyone who has heard and loved the song 'Manifesto' has an idea of the gifts the band The City Harmonic is bringing to current Christian music. Now… this new and exciting band … is getting ready to release its full-length debut." –LancasterOnline.com
"A band to be reckoned with, it's hard to believe this is their full length debut. If this band don't go on to become one of the best in Christian music, then there is simply no justice. Oozing talent, brilliant musicianship, huge sounding rock songs, what more could you want? An absolute gem of an album." –Louder Than The Music (5-star review)
"The City Harmonic are ready to take the world of Christian music by storm." –I Am Entertainment
"A few adjectives to describe the band The City Harmonic: Uplifting. Brilliant. Grandiose. Jubilant. Fortunately for us music lovers, when they breathe in all that is good, they also breathe out this music that words can't describe, speakers can't contain, and other bands could never duplicate." –Relate Magazine
"This album is uplifting, song after song. It's filled with emotional vocals and meaningful lyrics … Cleverly crafted piano and guitar blend perfectly with lead singer Elias Dummer's vocals for a truly spectacular listening experience." –Teen Ink
"I believe this is the best debut album by any band in the history of Christian music. If it were possible I would give this album ten stars out of five." –Christian Music Review Blog (5-star review)
"Definitely deserving of a five-star rating, the anticipated follow-up to their Introducing The City Harmonic EP was well worth the wait!!" –Jay's Musik Blog (5-star review)
"While there is so much to be said for this kind of talent and creativity, it should suffice to simply know that quality in every regard positively abounds in this album. Is it worth your dollars? More than ten times." –TheWorshipCommunity.com
"The record is outstanding both lyrically and sonically." –AlphaOmegaNews.org
In less than a year, The City Harmonic went from being virtually unknown to international acclaim. The band has gathered an impressive five nominations, including New Artist of the Year, for the Gospel Music Association Canada's 33rd Annual Covenant Awards that will be held in Calgary, AB October 28. Its unifying hit radio single, "Manifesto," which is featured as a bonus track for a limited time on I Have A Dream (It Feels Like Home), has sold over 90,000 copies as its companion video has been viewed on YouTube by over 1,000,000 people. Becoming the best-selling new artist of 2011 on the SoundScan Top Current digital singles sales chart, the band has simultaneously gathered endorsements from Mac Powell (Third Day), Peter Furler, Matt Redman, Kyle Korver (Chicago Bulls), Seth Smith (Colorado Rockies), as well as "likes" from Tommy Shaw of Styx and thousands of others on its Facebook page.
More information on The City Harmonic can be found at www.thecityharmonic.com.