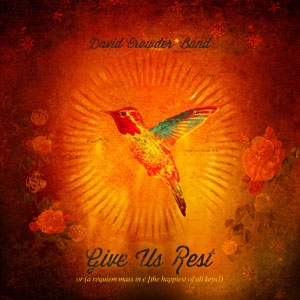 The final album from US worship band David Crowder Band has now been released. 'Give Us Rest or (A Requiem Mass in C [The Happiest of All Keys])' has risen straight to number 1 on the main US iTunes Album Chart after it's first day of release, 10th January 2012. The band performed their final show together last week at the Passion 2012 Conference in Atlanta ahead of their sixth and final studio album.
The popular American worship band announced back in May 2011 that they would be ending in early 2012 following the release of their final album. "The decision was reached that this sixth album would be our last", explained the band. "None of us is sure what's next, but we're not afraid. We're, in fact, really, really excited! And we're sure that music will play a role in the future for most, if not all, of us, since, well, we wouldn't know how to not have it a part of our lives."
The group's final album, 'Give Us Rest' is a bumper 34 track double-CD album, including first single 'Let Me Feel You Shine'. Their previous studio album, 'Church Music' (2009) debuted at Number 1 on the Christian retail chart and Number 11 on the Billboard Top 200, also receiving a Grammy nomination.
'Give Us Rest' Track Listing:
Disc 1:
1. Requiem Aeternam Dona Eis, Domine
2. Oh Great God, Give Us Rest
3. Lux Aeternam Shine
4. Come Find Me
5. God Have Mercy (Kyrie Eleison)
6. Why Me?
7. Fall On Your Knees
8. A Burial
9. Let Me Feel You Shine
10. Reprise #1
11. Blessedness of Everlasting Light
12. The Sound of Light
13. Interlude
14. Sequence 1
15. Sequence 2
16. Sequence 3
17. Sequence 4
18. Sequence 5
19. Sequence 6
20. Sequence 7
Disc 2:
1. Reprise #2
2. Oh My God
3. I Am a Seed
4. After All (Holy)
5. The Great Amen
6. There Is a Sound
7. Oh, Great Love of God
8. Our Communion
9. Sometimes
10. A Return
11. Oh, My God I'm Coming Home
12. Leaning On the Everlasting Arms / 'Tis So Sweet to Trust in Jesus (Medley)
13. Jesus, Lead Me to Your Healing Waters
14. Because He Lives
© Louder Than The Music
*This article first appeared in Louder Than The Music Magazine.