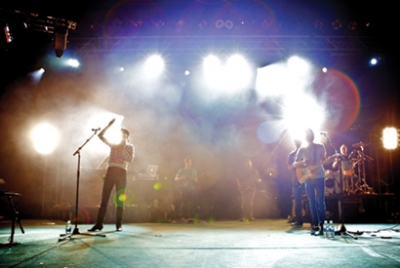 One of the world's top worship bands Jesus Culturewill release a new full-length live album on 29th November 2011. Recorded live over three days in Chicago at Jesus Culture's Awakening 2011 conference, 'Awakening: Live From Chicago' will be the band's sixth full-length album and follows last year's well received 'Come Away' live album.
'Awakening: Live From Chicago' will feature worship songs by the Jesus Culture Band as well as songs from Jake Hamilton, Kristene DiMarco, and Byran & Katie Torwalt. "Live From Chicago is a highly anticipated release and is sure to ignite a generation of passionate worshippers across the globe", says EMI CMG. The album is currently being mixed by Sam Gibson (Hillsong United, Delirious?, Pearl Jam, Crowded House).
Jesus Culture Band began as the local youth group worship team led by Banning Liebscher when he was youth pastor at Bethel Church. The band consists of Kim Walker-Smith and Chris Quilala along with Jeffrey Kunde (lead guitar), Brandon Aaronson (bass), Ian McIntosh (keys) and Josh Fisher (drums). In 2006 Jesus Culture Band recorded their first album 'Everything'.
A European Tour by Jesus Culture kicks off in London later this month. The band will perform at the HMV Hammersmith Apollo, on 24th September and then visit Amsterdam, Netherlands (27th Sept), Kolding, Denmark (28th), Berlin, Germany (30th), Budapest, Hungary (2nd Oct), Zurich, Switzerland (4th) and Paris, France (5th).
'Awakening: Live From Chicago' Track Listing (Not Final):
01. You Are Glorious
02. He Is Faithful
03. Break Every Chain
04. Father of Lights
05. Fill Me Up
06. Dance
07. My Everything
08. Burning Ones
09. The Anthem